Solutions-automation-medical-1-pic
Automation of the hospital medical supplies stock room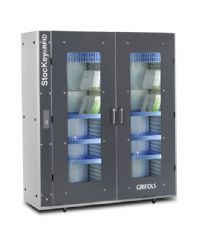 RFID technology for managing and replenishing the points of use: paper-free management
Grifols focuses on innovation using RFID technology to offer integrated solutions for managing the logistics of medical supplies.
We can provide the following solutions for logistics management inside hospitals: Central warehousing, distribution, point of use management, replenishment, unit control and patient allocation.
Solutions-automation-medical-2-list
By integrating the points of use and the central warehouses:
Nursing staff are freed from the burdens of inventory management, inventory control, order processing and stock replenishment.
The amount of stock on wards can be reduced and the inventory value lowered.
Automation of the hospital medical supplies stock room helps:
Adapt overall stock levels at the center to real needs
Optimize the amount of time needed for preparing orders and refilling stocks.
Control and monitor inventories in real time.
Reduce the space required for storing medical supplies.
Integrated management of the logistics procedures makes it possible to:
Completely trace expiry dates, lot information, and serial numbers.
Optimize the processing times and the associated flow of information.
Integrate with the hospital information systems more efficiently.
These solutions are provided by three products in a modular configuration: The Mercurio system for the management of central storage, StocKey® Kanban and StocKey® RFID Smart Cabinet.
For more information, please visit the products section of this website:
Solutions-automation-medical-3-gallery