Solutions-automation-pharmacy-1-pic
Automation of the hospital pharmacy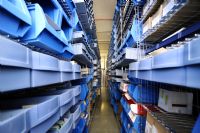 Integrated management of medication and supplies
Grifols offers modular logistics solutions that adapt to all types of needs, and allow gradual investment.
Central storage
The StocKey® Central software application, when used in conjunction with horizontal and vertical carrousels, helps to optimize stock levels, preparation times, and warehouse space.
Unit dose packaging
Grifols engineering department has developed BlisPack®, the only automated system for cutting and re-packaging blister sheets into unit doses. This system can be complemented with other products for handling units in other medical presentations such as vials, syringes, multi-dosis, bulk tablets, etc.
In addition, we have products that work with different coding formats such as: GS1, Datamatrix, EAN and RFID.
Order preparation
In conjuction with carousels, the StocKey® Central preparation module increases productivity and safety with little investment.
Solutions-automation-pharmacy-2-list
Outpatient Pharmacy
Depending on the requirements of each hospital, Grifols can offer solutions with various degrees of automation that respond to the specific problems faced by this department.
Semi-automated solutions
Automated solutions
Dispensing on hospital wards
For the management of medicines and supplies in nursing units, Grifols provides automated storage and dispensing systems.
Solutions-automation-pharmacy-3-gallery