Solutions-Grifols-solutions-1-pic
Grifols solutions for hospital logistics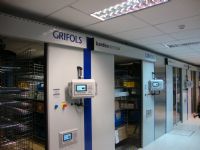 From the supplier to the point of use.
Grifols has been exclusively focused on hospitals for more than 70 years, giving the company full insight into hospital logistics management.
The model used by Grifols consists of innovative solutions and high-tech products that range from the management of the central pharmacy to the recording of administration of medication at the patient bedside.
Grifols solutions are modular and scalable offering investment management advantages.
The entire logistics model is intended to ensure the quality and safety of patient care.
Solutions-Grifols-solutions-2-gallery