Products-RIF-solution-1-pic
RFID Solution for controlling replenishment at the point of use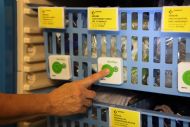 StocKey® Kanban: an innovative system that optimizes the inventory management of medical items.
Grifols has developed a new system based on radio frequency devices, which enables real-time management of requests for replenishment of medical supplies within the hospital.
How does StocKey® Kanban work?
The system consists of a set of wireless push buttons, each of which is associated to a product, and an area controller for each nursing unit. The hospital staff simply has to go to the order point and push the corresponding button; the system records and processes the request. By using radiofrequency and linking to specific articles, errors that occur with using manual paperwork and barcode labels are eliminated, and duplication of orders or omissions in the product request are avoided. This leads to greater efficiency and tighter control over health expenditure on hospital materials.
Save time and money
Hospitals that have implemented StocKey® have shown that the system can reduce the levels of warehouse inventories by 50%, and the amount of nursing time spent managing inventories by 90%.1
According to hospital staff, the most important features of StocKey® are: the ease of use (very intuitive), the ease with which it can be adapted to the work procedures of the hospital and the ability to manage the entire replenishment cycle.
Products-RIF-solution-2-list
Simple and efficient stock replenish
REAL TIME management of the replenishment: Request, processing and confirmation
Easily adapted to standard working procedures: normal request or urgent request
Comprehensive "paper-free" management
Integrated control of the replenishment management
User benefits
Easy-to-use "Press to request and press to refill"
Frees-up time spent on stock replacement.
Fully adaptable to standard working procedures.
Benefits for the supervisor
Provides full control over stock replacement status
Includes guidance and product location features
Simplifies stock management on the ward
Benefits for the hospital
Reduces the amount of stocks held on the ward
Optimizes management resources
Monitors the current state of the entire installation in real time
Can be integrated with automated processing systems
Products-RIF-solution-3-gallery