Products-BlisPack-automatically-cuts-1-pic
BlisPack®: Automatically cuts, wraps and identifies blister sheets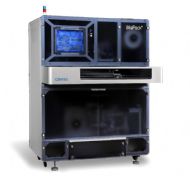 The BlisPack® system, designed and developed by Grifols, is an automated system that cuts the blister, and repackages and automatically identifies each tablet of the majority of oral forms consumed in the hospital. The purpose of this new system is to make it easier to trace the medication and reduce errors in administering medications to patients by automating the repackaging of solid unit doses. BlisPack® is the automatic alternative to manual preparation of unit doses: it cuts the blister sheet into unit doses without perforating the manufacturer's original packaging and preserves the original conditions of the medication.
The manual reconditioning process is not only a tedious task, but also carries the risk of errors in the identification of the medication, since the tablet information printed on the back of the blister packaging may be lost. For this reason, BlisPack® identifies each unit of medication with a barcode in the format determined by the hospital. This type of identification allows the nursing staff at the hospital to electronically check that the medication they are about to administer to the patient coincides with that on the physician's prescription.
Different sizes of typeface can be chosen for printing the labels, so that the information can be adapted to fit the size of the sachet. Datamatrix codes can also be printed.
BlisPack® is manufactured with high-quality stainless steel and aluminum. It also incorporates the latest technologies including three-axis robot, intelligent vision, large size touch screen, long-lasting thermal transfer printing, self-diagnosis warnings and permanent back-up. The instrument is easily installed in any medication preparation area; it only needs connection to an electricity supply and to the local area network.
The system is a result of Grifols' commitment to innovating the hospital sector and its expertise in designing devices aimed at increasing safety in the administration of medicines.
Automatically from the blister to unit dose presentation.
Automated cutting and re-packaging of blister sheets
Barcode printing can be configured: Datamatrix, EAN 128, etc.
Working autonomy 1 - 2 hours.
Products-BlisPack-automatically-cuts-2-gallery