Products-silicon-software-1-pic
Silicon: Software for
e-Prescription

and Hospital Pharmacy Management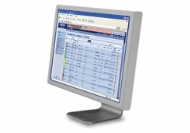 Integral management for pharmacological prescription:
Prescription
Transcription and validation
Dispensing
Administration
Products-silicon-software-2-list
Modules for hospital pharmacy:
Logistics management: stocks, inventories, transfers, distribution, etc.
In-bed and ambulatory patients.
Day hospital: agenda, schema, etc.
Nursing: ward orders, administration record, registration and control.
Intravenous manufacture (IV)
Modular and scalable system:
Integration with the rest of the hospital information system.
Central application server with high availability, based on JVM 1.5, JBOSS and Oracle.
User access via web browser.
Local and remote users.
Independent interface engine.